This story is about the first time I fell in love at first sight. Yes, it happened to me, and no, it wasn't with my husband. Sorry, babe.
This juicy story is about a fella I will not name, so some of the details will be vague. So, here it goes.
I walked into a room. It was mostly empty, but a few others scattered around. It didn't take me long to notice him. He looked up; his brown eyes following me as I neared him.
His eyes and his hair were the first things I noticed. He was definitely the cutest in the room, at least from what I saw of it, but now my focus was on him.
He watched me as I walked closer, weary if I would stop or not. But some unimaginable force pulled me toward him. I wasn't able to just walk by, so I stopped as I came up next to him. His eyes drew me in as I sat down with him.
It was a bold move on my part. I knew if I stopped and spent any time with this handsome boy, I wouldn't be able to leave him. I spoke first and asked him his name.
He was sweet and a little shy. I could tell he wanted me to stay. There was something I could see in his eyes that told me had been hurt before. I knew I wouldn't be able to refuse him. I needed to learn more about him and where he came from.
In a matter of minutes I could tell he felt the same about me as I did him.
We decided to get some privacy and moved into another room. This room had a few chairs to sit, but we opted for the floor so we could be closer to each other.
He playfully flirted with me and I was hooked. He was adorable and a little timid, but he was going to be mine; there was no doubt about it.
But I belonged to another--to Klay. Yes, I was with Klay. In fact, Klay was in the building with me when I met him.
I know that sounds terrible.
How could I want this and be in love and in a relationship--a happy relationship--with another?
I wasn't thinking about it then. I was living in the moment. I wanted to get to know him.
And then out of nowhere he kissed me. I'd just met him and he kissed me.

I was smitten.
Though I wasn't sure how to explain this all to Klay.
When I left the room, I immediately found and told Klay what happened. He was calm, but a little unsure, yet he told me he understood. We all aren't perfect, guys, so my husband gave me a hall pass.
But with the pass came a catch--he wanted to meet the fella who kissed me.
So I went and nervously introduced them. I wanted Klay to like him and understand some of us have connections with each other right off the bat.
He wasn't what Klay expected, but Klay and him really hit it off, even though he'd just kissed his gal.
Klay even invited him to come stay with us. Weird right?
The fella was in between places at the moment.
Yall, he even slept in our bed--it's a king size so we all fit. It was the only place he could sleep.
We learned a lot about him. He had been hurt in his past. He was lonely and looking for love--and wanted to be a part of a family.
And guess what? We still talk to him daily.
Our relationship is complicated though. Some days he likes me, other days he want nothing to do with me. And it's the same with Klay.
His downfall: he's a little clingy and moody.
I mean just the other day he snapped at me when I asked him to move over.
But those eyes get me every time. I won't break it off even when I'm mad at him--even when he tears up something of mine for attention. I can't do it.
He let's me know when he's mad, he hates thunderstorms and he has definitely the biggest weenie I've ever seen.
Did I say HAS? Oh I meant he

IS

the biggest weenie I've ever seen.

If you haven't figured it out now, I'm talking about my 24-pound weenie dog Billie.
This post is a vague account of how I first saw him locked in a cage at an animal shelter.
Billie was my love affair. I love that little guy. I mean who wouldn't fall in love with this sweet face!?
Hope you guys were wondering what the EFF was going on! LOL.
Sorry, I couldn't help myself!
Reppin' my second link up evaaaaaahh.
So, I'm linking up w/ some fellow bloggin' gals! This is my second link up LIKE ever--and this one is extra awesome because anyone can participate!
How you ask?
With that simple little four-lined symbol that I'm guilty of using all too much—the hashtag—duh!
Simply add #totalsocial with your post about a "first" on your Twitter, Instagram or Facebook, whichever social media site/app suits you.
Two incredibly amazing gals I stalk follow, Helene In Between & Venus Trapped In Mars are the hosts of this NEW monthly linkup! If you're not following them, you're missing out on some good shizzz.
So the theme for this month is
firsts
--since this was the time I fell in love at FIRST sight, I guess this counts right!?
Tell everyone about your first anything--the first time you kissed a boy, your first Instagram post, your first day of school, your first drink of alcohol or whatever suits your fancy!
C'mon you can do it, it will be fun!
I believe in you.
OK. Just do it so I have something to look at on social media, please!? I'm getting tired of hearing about "Roman having an OK day, getting a Coke ZERO and raising the roof!"
Incorrigible!
#moviereference
If you don't know it, then you won't get an 'A' in movie lit. ;)
Tag me too if you want, I'd love to see what you post!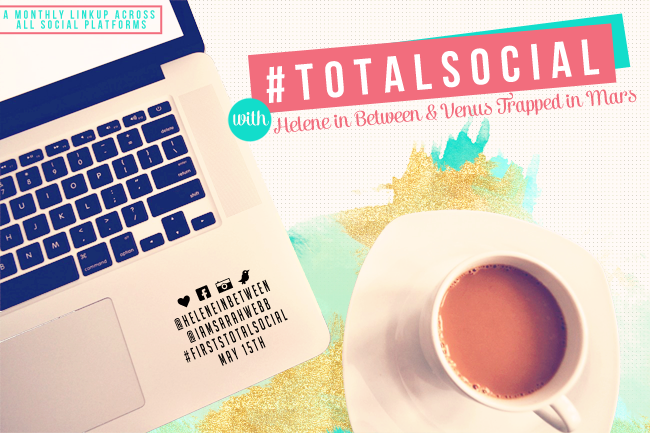 Are you linking up!? What's a good first story that you wanna share?